This is an English translation of a post from May 14, 2019 by David Werner in his Oboe Blog.
Knowledge Applied Original post May 14, 2019. Click here to read the original blog post in German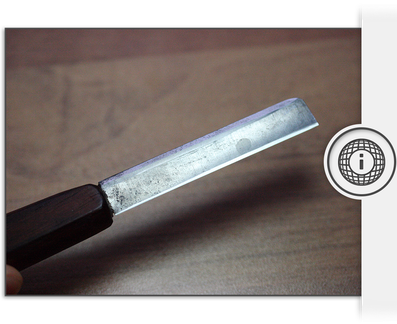 A little while back I introduced you to Kreedo Academy. Although I have sharpened my own knives already for many years now, I found new ideas in the comprehensive online course.
So, now I have given my reed knife a new finish. Now it radiates with a new shine and is sharper than it ever was.
Ever since my very first reed I have owned the same reed scraping knife. I have had it since my earliest years of lessons at the music school with my first oboe teacher. It has a very slightly hollow ground shape on both sides and over time has acquired some rust.
The hollow ground shape makes sharpening this knife somewhat demanding since one can't directly sharpen it. This knife is made by the manufacturer with a curved sharpening stone with a diameter no one at home can reproduce.
My first reed knife: slightly hollow ground, on the sharp edge there is a micro bevel and there is some corrosion.
Nevertheless, one can of course sharpen one's own hollow ground knife. This is best done by making a micro bevel. By doing this, the edge is given a slightly steeper angle, and this causes it to be sharp.
With time this [micro bevel] has become quite large on my knife. In addition, the knife has become thinner in the middle compared to the ends at the tip and at the handle.
At Kreedo Academy I learned that this is relatively easy to remedy since one can make a slightly hollow ground knife into a beveled knife.
In order to remove the somewhat large micro bevel, one needs a diamond plate. A sharpening stone will not function for this because it is much too fine. The goal is to remove relatively large amounts of material in order to get an even edge.
By placing the knife flat on the plate, the hollow ground knife gradually changes into a beveled knife. This will make future sharpening much easier. As an added bonus, the rusty spots also disappear slowly. It is possible to help the rust removal a little if necessary, with some sand paper.
Because the sharpening process on the diamond plate is very coarse, it is important to follow up with a much finer sharpening stone. I used a Japanese water stone. Naturally, I started by using the 1000 grit stone and then later the 6000 grit stone.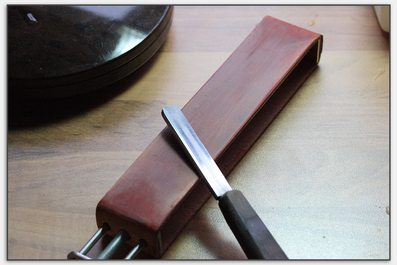 In the next step I cleaned the edge with a leather strap so that I would achieve an even sharpness. This way I can avoid catches in the reed while scraping. For some quick maintenance during scraping I use the leather. The more often one does this, the longer one can put off needing to return to the sharpening stone.
Compared to before, my reed knife is significantly sharper and looks better maintained. The matte stripe in the center betrays its history as a hollow ground knife. This will gradually disappear more and more with each new sharpening. The advantage of the beveled nature of the knife is simpler sharpening since it no longer has a micro bevel.
You can learn the exact procedure for dealing with the various sharpening tools at Kreedo Academy. In addition, you will be introduced to different types of reed knives and sharpening possibilities. The online course is so comprehensive that in end you know everything about sharpening knives.
To get to know it better, I definitely recommend trying the free tutorial!
And now if you decide to go for the complete access, you can choose between a monthly, yearly or a lifetime subscription. Each of these variants includes a 7-day free trial with access to all content.
Photos: David Werner
English translation: Jeanine Krause
https://www.kreedo.de/academy/wp-content/uploads/2019/06/Werner-Oboe-Blog.png
1000
1000
Jeanine Krause
https://www.kreedo.de/academy/wp-content/uploads/2019/04/Kreedo_academy_Sign_transparent_654x300.png
Jeanine Krause
2019-06-05 05:29:52
2019-06-15 08:09:57
D.Werner Oboe Blog "Knowledge Applied"