This is an English translation of a post from Feb 26, 2019 by David Werner in his Oboe Blog.
Click here to read the original blog post in German
KREEDO ACADEMY Original Post Feb 26, 2019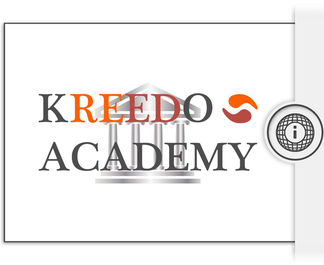 The digital age is all the rage. Youtube and co. have become our constant companions and not only merely for entertainment. Through E-learning, education is available always and everywhere.
Kreedo Shop launched Kreedo Academy, a platform of knowledge for all things pertaining to reed making. Tailor made to individual needs; one finds thought a vast number of videos in online courses and the chance to expand knowledge. Comfortably from home or from on the road, the workshops are available for everyone.
Kreedo Academy's first project is dedicated to knife sharpening. A topic that speaks not only to oboist but also to bassoonists. The determining factors for a good reed are working and well maintained tools.
The pilot project "The Knife Sharpening Companion" shows not only how to sharpen different types of knives, it also takes on the topics of different kinds of knives and how to work with various kinds of sharpening tools.
Christel and Jürgen Krebs have enlisted the cooperation of the experience oboist, Jeanine Krause for this project. Together they introduce the materials and the types of knives and discuss the advantages and disadvantages on camera. They consciously chose English in order to reach a world-wide audience. The clear vocabulary and video transcripts make it accessible and understandable even to those with more limited fluency in the English language.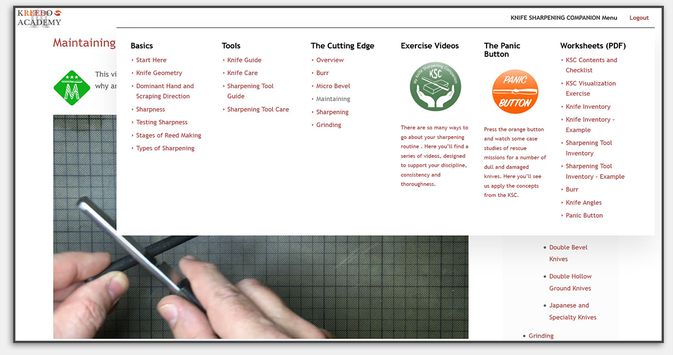 The course is well-structured and the menu makes it easy to navigate between topics.
It is easy to for the user to navigate through the chapters thereby learning about the various types of knives and how and when to use them. Also, there is sharp and there is sharp: for various reed making stages one needs different kinds of sharpness and here one learns where and when to use which kind of sharpness. The descriptions of all the terms and concepts is always accompanied by pictures and graphics and printable worksheets support the learning process.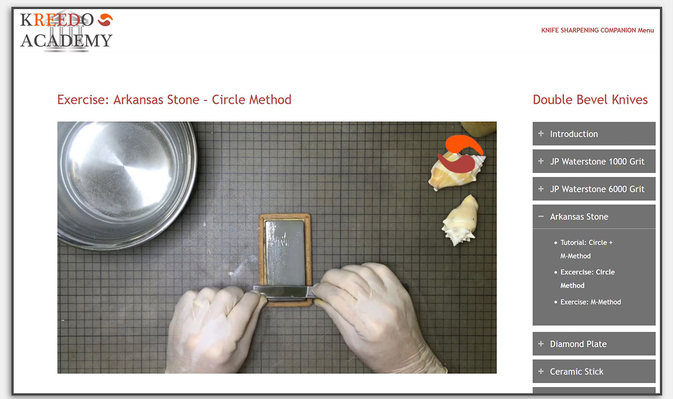 Each type of knife has many videos with each sharpening tool. This way you find your own combination.
Each type of knife has Kreedo Academy exercises and instructions. All available sharpening tools are dealt with and this makes the Knife Sharpening Companion unbelievably comprehensive. The scope of the information (approximately 10 hours of video material) belies a staggering amount of work that went into this very detailed online course.
With occasional humor and with videos that have an interview character, Christel, Jürgen and Jeanine create a pleasant learning atmosphere and avoid frontal instruction.
With a free offer you can gain an impression of Kreedo Academy and learn the first few exercises for sharpening of your knife.
The price for the complete course is €247 +19% VAT (€293,38). There are regular offers with which one can get good discounts. There are also several payment methods available, some of which also offer a discount.
UPDATE: Kreedo has added a new payment method. You can choose between a monthy, yearly or lifetime subscription. And by the way, each method includes a 7 day free trial with access to the entire content.
English translation: Jeanine Krause
https://www.kreedo.de/academy/wp-content/uploads/2019/06/Werner-Oboe-Blog.png
1000
1000
Jeanine Krause
https://www.kreedo.de/academy/wp-content/uploads/2019/04/Kreedo_academy_Sign_transparent_654x300.png
Jeanine Krause
2019-06-05 05:10:14
2019-06-15 08:10:17
D.Werner Oboe Blog "KREEDO ACADEMY"